Mobile OCR for the iPhone
OCRKit Mobile

OCRKit for iPhone, is the easiest way to convert and extract text from your photos and documents. You can edit, copy, paste and share the text with third party applications, including Mail.
OCRKit is built on fast and accurace text recognition (OCR), and allows you to process PDF and photos from your iPhone and iPad on the go. Save the text and edit it, any time you need. Processed on the device, no data connection required.
Key Features
:
fast and accurace OCR
allows to edit, copy, paste the text into third party application.
use an existing PDF, photo, or take a new one with your built-in camera
editable history of previously recognized text
designed for iPhone, iPod touch and iPad
OCR recognizes text in 25 languages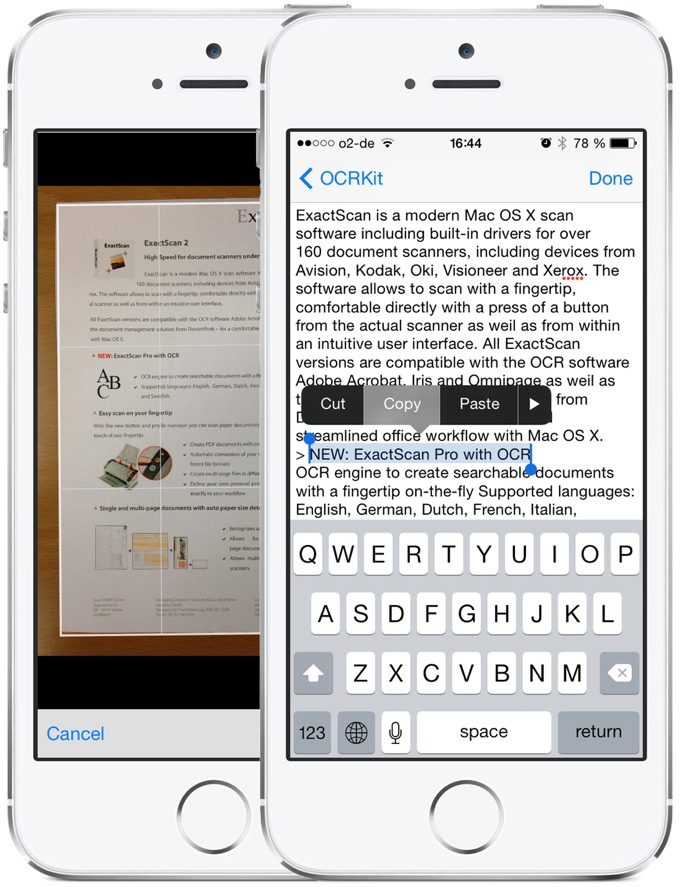 "Make your digital life less complex, using OCRKit on your iPhone."
OCR Languages

The OCR supports the following languages:
Bulgarian, Croatian, Czech, Danish, Dutch, English, Estonian, Finnish, French, German, Hungarian, Italian, Latvian, Lithuanian, Polish, Portuguese, Rumanian, Russian, Serbian, Slovenian, Spanish, Swedish, Turkish, Ukrainian, and Norwegian.
On the Phone

Unlike other offerings, OCRKit performs all image processing including the OCR directly on your iPhone. No image data is transferred to servers over the air, your data plan is saved and OCRKit just works while abroad.
Compatibility

The OCR requires a sharp image with macro focus, and thus works best with the iPhone 3G, iPhone 4/4S and iPad 3. Older iPhones will only yield recognition results if used with a close-up lens case, such as Griffin's Clarifi.
The 5 mega-pixel camera starting with the iPhone 4 and OCRKit can potentially replace an entry-level portable scanner for roadwarriors working with paper documents abroad.
We recommend using OCRKit with the iPhone 4/4S or iPad 3.
For best results with OCRKit Mobile, please visit our FAQ section.
Available for $2.99 from the App Store.