Convert any PDF or graphic file into searchable PDF, RTF, HTML and TXT
Searchable Text

OCRKit is a simple and streamlined Mac application, that features the advanced Optical Character Recognition technology, allowing you to convert scanned or printed documents into searchable and editable text. This is particularly useful for PDF documents received via e-mail or created by DTP applications. It can be a great help for everyone, home users, corporate users at work and educational institutions.
You can use the copy and paste tools on the document, instead of retyping everything and correct it. It increases the efficiency and effectiveness of office workflow. OCRKit is fast and accurate, ensuring the document's content remains intact while saving time as well.
OCR Engine

Text recognition accuracy
Instant content search ability
PDF Compression
High speed conversion
Stability and performance
The OCR engine recognizes the following languages:
Bulgarian, Croatian, Czech, Danish, Dutch, English, Estonian, Finnish, French, German, Hungarian, Italian, Latvian, Lithuanian, Polish, Portuguese, Rumanian, Russian, Serbian, Slovenian, Spanish, Swedish, Turkish, Ukrainian, and Norwegian.
Automatic rotation
The automatic rotation determines the orientation of each scanned sheet automatically, therefore avoiding the need to manually pre-sort a stack before you scan. As the automatic rotation works independently from the OCR mechanism, the feature also helps to improve OCR results.
Towards a paperless office
Go paperless with the help of OCRKit. Add text recognition and compression to your scans, contracts, invoices, and receipts in your archive. Save time and money by transfering your paper into the digital world and find your documents in a snap.
Multi-Page Documents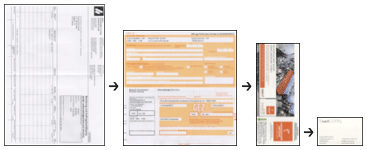 There are no limits to the number of pages of the PDF or TIFF documents. There are also no limits to the number of pages that can be processed each day.
Simply Drag and Drop

It works very easy, just by dragging a document into the app dock icon or, by opening the document with the OCRKit application (Open With > ).
AppleScript Support
OCRKit includes AppleScript support, so professional users can use it for programmed batch conversion.
Supported File Formats
Import Format
The following file formats can be read: PDF, TIFF, JPEG, JPEG2000, PNG, PNM, BMP, PCX, GIF as well as OpenEXR.
Export Format
The following file formats can be saved: PDF (Portable Document Format), HTML (HyperText Markup Language), RTF (Rich Text Format) and TXT (UTF-8 encoded plain text).
OCRKit Pro: Additional Features
Automatic language detection

You often find yourself switching OCR settings between documents in another languages?
OCRKit Pro comes with an new "Automatic" languages choice. It transparently detects the language and switches to the apropriate alphabet and dictionary for each page of the document independentaly.
Higher multi-threading performance
OCRKit Pro further optimizes the use of the many cores available today. Allowing the Pro version to archive even higher performance compared to the already blazing fast standard version of OCRKit.
Imprinter

The Imprinter allows OCRKit Pro to print text onto the page's image. For example the scanned date, or watermarks such as "APPROVED", "VOID", "PRELIMINARY", "CONFIDENTIAL" or anything else you may need.
OCRKit Enterprise: High Volume
Optimized multi-core performance
While OCRKit is already multi-threaded, the Enterprise version is even more optmizhed for high volume thruput.
High Volume
If you scan huge amounts of files you might be looking for the higher speed and support of the Enterprise version.
Support & updates
Two years free updates
After initial installation and activation we provide you with support and free software updates for at least two years. (For ExactScan v2 we provided over 100 free updates in 7 years!)
We also listen to customer feedback and constantly implement new features, functions and new OS support.
Upgrades
Adapting to OS updates, new features consume significant development resources.
To update to new versions after the first two free years we provide upgrade licenses at a reduced price to fund continous support and development.
General Information
Interface Language Support
The OCRKit user-interface is available in the following languages:
English, Dutch, French, German, Greek, Italian, Japanese, Portuguese, Spanish, Russian, Ukrainian, Chinese (simplified) and Chinese (traditional).
System Requirements
macOS 13, 12, 11, 10.15, 10.14, 10.13, 10.12, 10.11, 10.10, 10.9